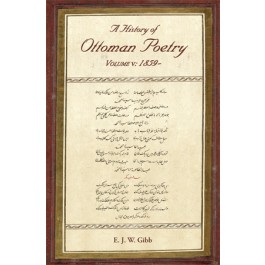 A History of Ottoman Poetry Volume V: Later 19th Century
Author: E J W Gibb
Year: 2013 (repr. of 1907 edition)
ISBN: 9780906094594
Language: English
Paperback, 258p, H210 x W149 (mm) 
The History of Ottoman Poetry, first published in six volumes between 1900 and 1909, was the principal product of E.J.W. Gibb's devotion to Ottoman Turkish literature. By the time of his early death in 1901 only the first volume had appeared in print. The remainder was almost complete and was seen through the press by Gibb's friend and literary executor, the Persian scholar E. G. Browne. The History was designed to provide the first extended account in English of Ottoman literature. The first four volumes cover four developmental phases, largely under the influence of Persian literature, from around 1300 to the middle of the nineteenth century. The fifth volume introduces the 'New School' of Ottoman poetry produced in Gibb's own era and inspired by French models. The sixth volume contains in Ottoman printed script the texts of all works quoted in English translation in the previous volumes. No comparable study has appeared in English since Gibb's magnum opus. His History of Ottoman Poetry has become a classic work which is still widely referred to and valuable for students, scholars and anyone with a general interest in Middle Eastern literature and culture.
Volume V (originally published 1907) concludes Gibb's study of Ottoman poetry. It contains three chapters on the 'modern school of Ottoman poetry' drafted by him and edited by Browne. Emerging around 1860, this modern school was a product of the Ottoman tanzimat reform era and was strongly influenced by the 'inspiring genius' of western, particularly French, literary models. To Gibb, it signified 'a great awakening'. Chapter I provides a general introduction to the poets of the period and their literary and political circumstances. Chapter II is devoted to Şinasi Efendi (d. 1871), 'the master who laid the foundation of the new learning'; chapter III presents Ziya Bey, later Pasha (d. 1880), a prolific writer in both prose and verse and translator of many French literary works into Ottoman. Gibb died before he could begin an intended study of the person he considered the greatest poet of this new school, Namik Kemal (d. 1888).
Volume V contains over 100 pages of indices to all five volumes: of persons and places; of books, journals and poems; of 'technical terms and Oriental words', and of subjects. The indices were compiled by R. A. Nicholson.